While not everyone keeps up with the latest social media trends, there's no denying that TikTok has been on everyone's lips, including the US President. For many, TikTok is a social platform for Gen Z and various Millenials to share fun and creative videos. But guess what, TikTok has much more to offer, especially for businesses looking to up their marketing game.
So What Exactly Is TikTok?
TikTok is a social media application that lets its users share short-form clips. These videos can range anywhere from five seconds to a minute. Typically, the app's users (TikTokkers) create and upload videos of them participating in popular trends. Some of these videos include dance trends, recreating popular memes, or reacting to cringe videos.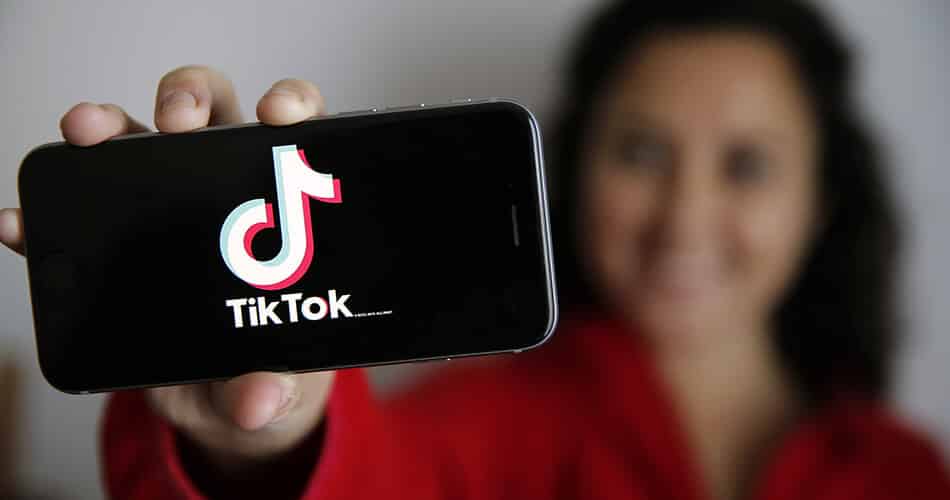 TikTok's Growth so Far
In case you were wondering why there's so much excitement surrounding TikTok in the business world, here are a few reasons why:
According to Statista, TikTok, as of February this year, attained a sum lifetime user spending of $300 million on Google Play as well as App Store.
The app exceeded 2 billion worldwide downloads and had approximately 700 million live users as of July 2020. This figure is a twelvefold increase in the total monthly active users(MAUs) since January 2018.
TikTok recently launched the "TikTok for Business" platform that lets businesses seamlessly purchase and creates ads.
The Low-down on TikTok for Business
Launched in June 2020, this platform aims to offer brands digital marketing solutions. TikTok for Business aligns with TikTok's theme of creativity while providing design tools to propel brand awareness. For instance, brands can utilize the "TopView" format, which allows ads to pop up immediately when a user opens TikTok.
You could also call this platform a hub. Reason being that TikTok for Business plans to launch an e-learning center—a one-stop-source for marketing tips, tutorials, and case studies.
Besides this learning center, TikTok announced new advancements to the platform. The first one being the Branded Scan. This product allows TikTokkers to experience an augmented reality(AR) effect. The other development was the TikTok Creator Marketplace. This platform connects TikTok creators from all over. It lets businesses reach out to creators to discuss possible synergies.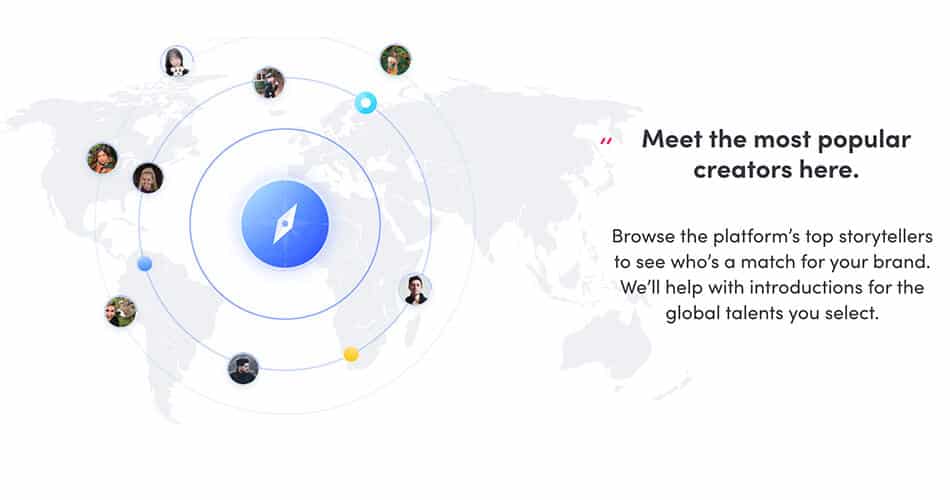 How to Tell Whether Your Business Can Benefit From Using TikTok
We currently live in a digital era, and businesses can't afford to ignore the significance of having a social media presence. This statement is especially true for small and mid-size organizations struggling with brand awareness and increasing revenues. TikTok is right for you as a business if:
You're targeting a younger audience, typically between 16 and 30. For instance, if you live in the US, you should know that 32.5% of MAUs are teens, while those aged between 20 and 29 account for 29.5%.
You can pull off marketing your products and services in a short video
You're open to trying new digital marketing strategies
You are willing to keep up with the platform's trends
In case you have doubts about this marketing trend, here are two brands that have jumped on the TikTok bandwagon and managed to pull it off.
Chipotle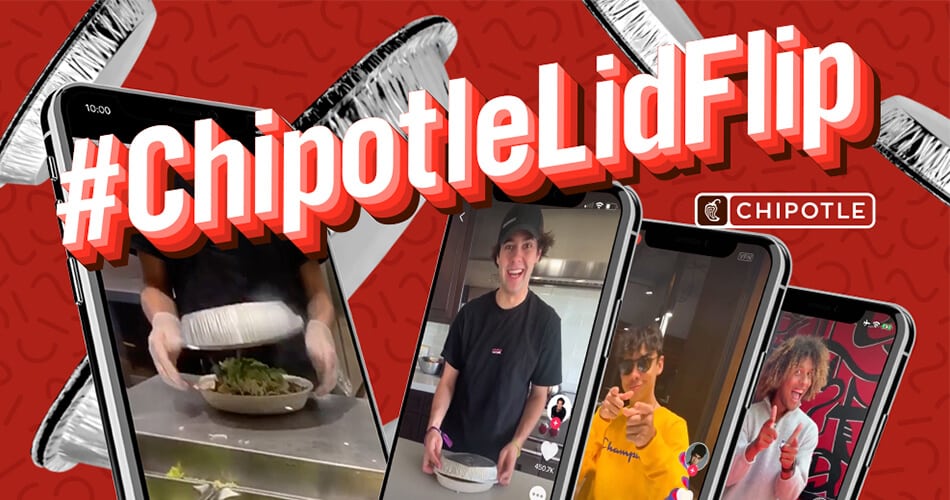 Chipotle, a popular fast food restaurant in the US, created the #LidFlipChallenge. The aim was to encourage online orders via their website and mobile app among the younger audience. As one of their social marketing strategy, influencer marketing has proven to be useful. Just a month after this TikTok challenge, their video had received over 200 million views. Also, this marketing campaign significantly increased their sales and online orders among Gen Z consumers.
Fenty Beauty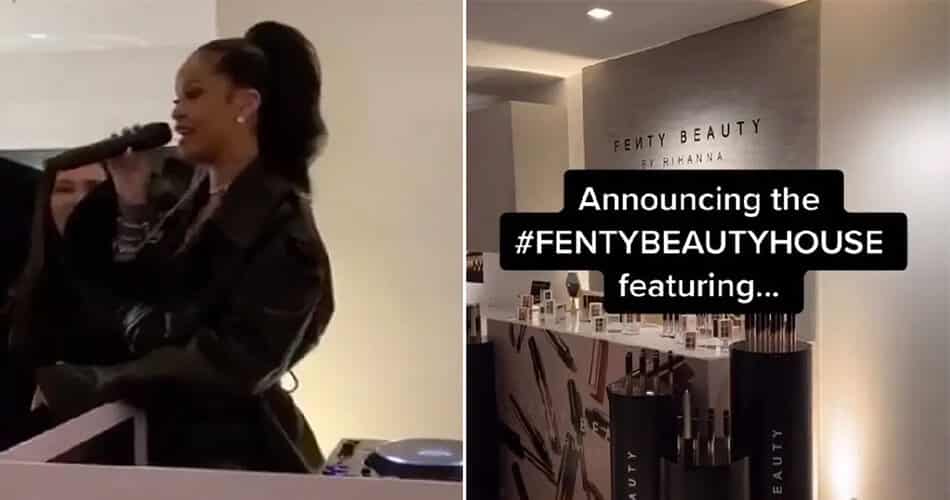 Fenty Beauty is a cosmetics line by Rihanna, an entrepreneur, and a well-known singer. In March of this year, Rihanna revealed Fenty Beauty's TikTok house for content creators to reside while marketing the cosmetic products. This tactic resonated with Gen Z users and has since increased the brand's consumer base.
Reasons Why Businesses Should Integrate TikTok in Their Social Marketing Strategy
It's an excellent guerrilla marketing strategy. The younger generation today has a different view of marketing. Most of them dislike 'explicit marketing' with 46% between the ages of 15 and 25 using ad-blockers.
TikTok is the perfect application for user-generated content. The young generation admires authenticity above anything else and is quick to point out gimmicks. Other platforms have, in the past, received criticisms over influencer fraud.
Unlike other social media platforms, TikTok uses AI to predict a user's preference. The AI algorithm is different from the recommendation system used by YouTube. As a result, any business can go viral regardless of the number of followers and views.
Due to its relatively novel nature, the app is not yet overly saturated by marketing companies. This less competitive market creates an excellent opportunity for small businesses to thrive in ad campaigns.
TikTok allows businesses to market themselves without having to deplete their resources.
How to Prepare for Your First TikTok Marketing Campaign
Before you create an ad for your firm, you must fill out and submit an online form. A TikTok ad representative will contact you once you qualify for an advertising profile. To finish setting up your advertising account, you will need to:
Set clear campaign objectives
Choose your optimization goal(clicks or conversions)
Determine your daily budget
Choose when to run ads
Decide whether to run your ads on all TikTok platforms
How to Market Your Business on TikTok
Even though creating content on TikTok is a straightforward process, businesses need to know how to churn out strategic content.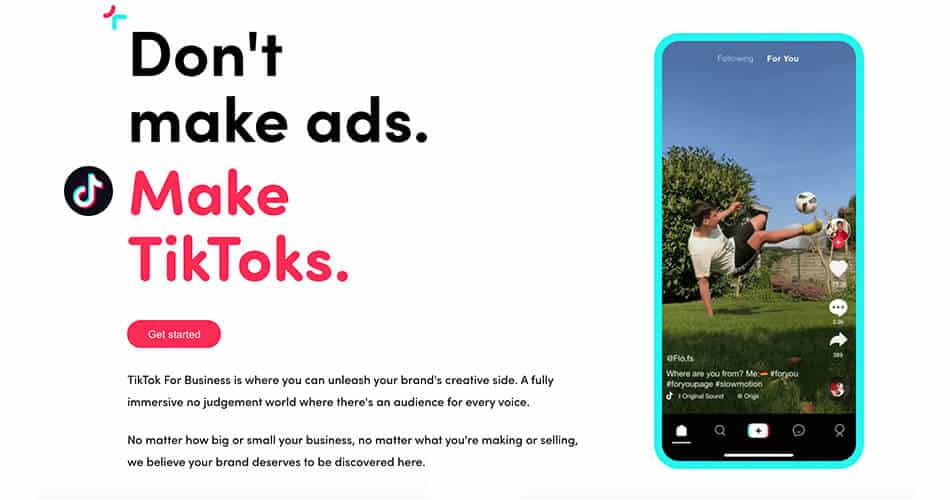 1. TikTok videos of your team
If you examine various TikTok videos that go viral, you'll notice a number of them being group content. It'd, therefore, be a good idea to get your team together to brainstorm group activities to include in your video.
As a rule of thumb, your videos should be authentic, light-hearted, relatable, and yet creative. Going viral is the hard bit. However, the more videos you put out increases your chances of interactions.
2. User-generated content (UGC)
No social media strategy is complete if it fails to incorporate user-generated content. UGC involves TikTok videos by unpaid users in support of a company's products or services. The authenticity of UGC is perhaps what makes this a successful marketing tactic.
What's more, everyone wins. By promoting the brand, the TikTok user will likely receive paid partnerships as well as PR products. At the same time, the particular Business generates new customers and increases their revenues.
3. Advertisements
As a business owner, you can utilize TikTok for Business to advertise using:
TopView, which lets your ad appear as the first item when users open their apps.
Infeed clips that appear while user-generated content is running.
Brand Takeovers, which lets businesses take over TikTok for a day to market their brands using various tools and effects.
Hashtag Challenge, which lets businesses increase engagement using a crafted hashtag.
Branded effects that let TikTokkers virtually test out products using a 2D and 3D lens
4. Influencer marketing
Your Business may choose to partner with a content creator that identifies with your brand and has an engaged following. It would be best if you also looked at influencers who have partnered with an almost identical brand to yours.
There's no denying that social media marketing is dynamic, meaning businesses must keep up with the latest social media trends. Today, TikTok is not only ideal for entertainment but is also proving to be a useful marketing tool. This app has uniquely tapped into a global audience while offering businesses a chance to create brand awareness. Besides that, it's new developments are a sign of its interest in supporting small and mid-size companies.